The One System has evolved over six years, enjoying high levels of availability, improved security updates and multi-million dollar investment to evolve the feature set in-line with industry changes, more than 600 specific features have been added based on office, agent and technology expert feedback.
The One System enables us to deliver outstanding client experiences,
assist with business growth and deliver value to our business owners
around productivity for their people!
This is the lifeblood of our office network, helping principals and agents list and sell more property in a digital age. Simple to access and easy to use, The One System integrates all of your office information, making it easier to market property as well as communicate with buyers, sellers, landlords and Tenants. Comprising a suite of cutting edge real estate specific applications, this is your competitive advantage. 
Training and Support Resources
A dedicated team of technology trainers for our network and members to:
Set up the technology platform
Member on-boarding
The on-going training of "Why and How" to use the platform
Accelerate
A sales training platform developed over the last five years based on three decades of real estate knowledge.
A series of learning and development modules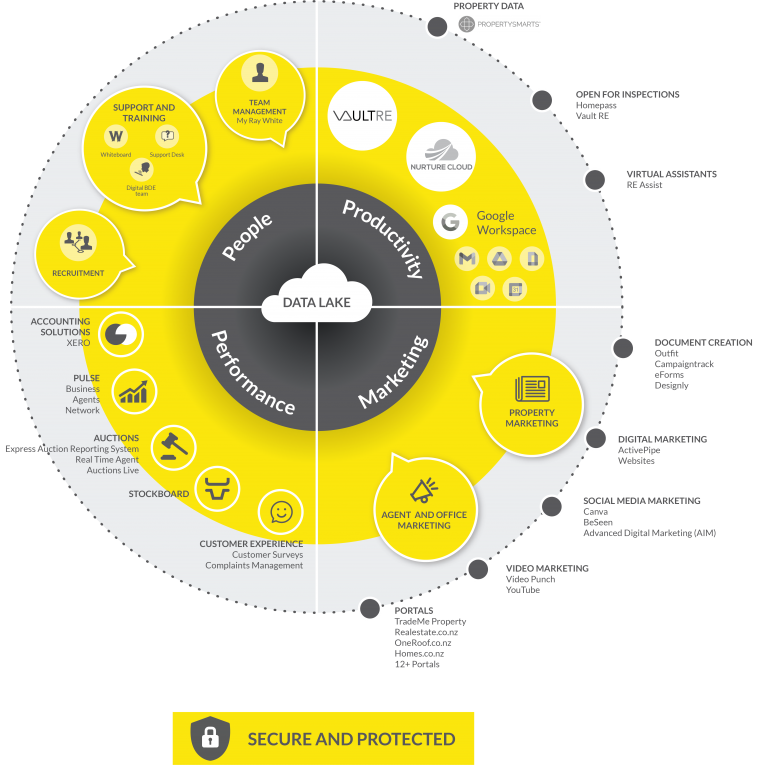 Digital Lead Management
In addition to our One System tools, we have a number of integrated partners we call One System Extra's to help agents
Virtual Assistants
An outsourced range of pre-built processes that offices connect to in the form of Virtual Assistants
(VAs).
A menu-based services suite has been created and all VA's come "Ray White ready".
Benefits to your business
Business leaders

• Reduce the complexity of running your real estate business
• A united platform to better negotiate with suppliers rather than have them divide and conquer offices as individuals
• Enhance the ability to recruit, train and retain quality staff
• No surprises due to simplifying IT software costs and positioning your business for growth
• Access to better information and timely reporting to help run your business more effectively
• One centralised support solution to service the core One System applications
• Mobilise your workforce simply and efficiently
• Secure, scalable and cloud based
• Ongoing updates and developments
• Improved online presence
Licensees
• Access to information from any device anytime
• Improved communication options to clients
• Quick and easy document creation for listing presentations and vendor reporting
• Agent specific websites for increased lead generation
• Automatic customer surveys putting you in control of your brand
• Local online strategies to keep your profile current in your market
• Ability to stay in touch with more clients by leveraging technology
• Mobile apps to assist at open homes and listing presentations, with property estimations made easy
• Buyer matches made easy with ready to use templates
• Self-paced training material for all members
Property management

• Secure and simple log in to all One System applications
• Secure cloud based storage of all landlord data for access anywhere, anytime
• Quick access to a world class library of property management business templates
• Access to property management reporting systems and key performance indicator tracking
• Mobile apps for property appraisals and inspections
• Ability to regularly survey landlords and tenants
• Real time rental data
• Professional presentation templates
Office administrators

• Easy onboarding and exiting of members in your office
• Ability to control security permissions across all One System applications
• Built-in real estate reports
• Ability to share calendars for effective team management
• Ability to create time saving email templates
• Structured online document storage for sharing with agents and office staff
• Template driven professional presentations from easy to use templates
• Automated end of month reporting on a range of sales results
• Training programs to develop your team
What's on the horizon for the One System team?
Increased integration of systems to simplify agents use 
Real time responses to incoming digital inquiry and timed delivery of communications to your clients
Improved vendor reporting with built-in market feedback
Auto population of agent profiles into a selected set of portals and digital platforms.
Developing principal dashboards.
Piloting corporate lead generation for accredited offices.
Mobile first development for all agent facing technology.
Significant uplift in the ease of use for VaultRE and Propertysmarts for agents.
Simplifying referrals and conjunctions within The One System.
1091 offices
across 12 countries
1589 members
with us for 10+ yrs 
1 in 6 Properties sold
across New Zealand
53 New Offices 2018/2019
across Australia & New Zealand
We sold 770,000 Homes Worldwide
78% more than in 1992 when we opened
What our Owners Say About Us
The Ray White Corporate team keeps us ahead of the trend as industry leaders by providing tools so our salespeople and administration teams can be more efficient.   We've been part of the Ray White family for over 25 years and appreciate the continued innovation and quest for excellence, while providing ease of use systems.  One System, with its range of CRM, reporting and document management capabilities, gives our salespeople and admin teams the means to use time effectively, so our clients can be our number one focus.
We have been part of the Ray White Group since 2002 and have witnessed the constant development and growth that this company provides. Part of this is the One System, which keeps us at the forefront of the latest technology. It would be impossible for us to individually manage everything that One System offers us, so the fact that is it all taken care of allows us, and our Salespeople, to spend our time where it is more beneficial. Salespeople who have joined us from other companies cannot believe how effective and efficient One System is. Couldn't be happier.
Being an owner / operator of a real estate business gives me the chance to utilise the One System from both a business systems and administration perspective alongside the benefits it provides me as a salesperson. From the business side, I see the benefits being the streamlining of our administration - to be as efficient as possible. The tools from the Google suite along with MyDesktop allow me as a salesperson to have control over my sales business and the cloud's flexibility enables me to conduct my business from any location that my client, or I, might be at.
Absolutely love it! The One System has enabled our sales and support teams access to all office templates and documents anywhere, anytime and all updates are immediate. Client and customer management can be customised, automated and tracked - helping plug the leaks and identify opportunities. Full online training has enabled the implementation and training of current and new staff so much easier. Real-time reporting on the sales team activity has also made managing their business relevant and efficient from a management perspective
We have salespeople managing more stock more efficiently, as the One System lets our agents get on with listing and selling real estate as they spend less time doing administrative tasks. One system has also been one of our best recruiting tools: the ability in knowing when we sit down with agents from other companies that our systems and technology are miles ahead of what they are presently using is simply awesome.
One System is the quickest and easiest way to keep in touch with your database and future buyers. The world is heading towards digital and you can't afford to get left behind.
"Thank You" Ray White for providing such a "one stop" complete system for my Salespeople and Administration alike! It is a system that we all find user friendly. It is organic in that improvements are on going, whether from user suggestion or technology improvements. I can with all confidence advise new staff that we provide the best in the world system to assist them become their best, at their pace.
Ray White is an invaluable business partner for Carpenter Realty. For us, to be able to focus on growing our business knowing that the technology side is constantly being improved behind the scenes is a massive asset. From the best training for our salespeople to mentoring for business owners, all bases are covered and it is clear that the effort and investment in time and resources by Head Office and the White family is relentless. Leadership is strong and direction is clear. We all know where we are going as a company. And the confidence that gives us is priceless.
I love being part of the Ray White group, for over 20 years now I have seen and been through Partnership changes, Christchurch Earthquakes, GFC's and KFC's and have had the support and backing of Ray White family as we have in return, this cemented our relationship we are there for one another. They allow us and encourage us all to grow and empower our team members to reach their potential. I have always liked the One System, it's suitable for all levels of real estate experience and tech competence. Simple and everything under the one roof easy to learn, functional and enjoyable. Running multi offices becomes easier and database and relationship management is systemized...Thanks Team
The support provided by Ray White Corporate team is second to none. The One System provides untold avenues to assist the whole team , admin, property management, management and the sales team. No one is left without support. One System maintains data in a way far superior to anything else we have used. We are a small office and time is extremely important. The One system certainly helps with that. Ongoing training is always readily available via video as we are provincial.
When I chose to start my own Real Estate business it was an easy decision on which brand I would choose. I was fortunate enough to be able to start my career within the Ray White Group and learnt very quickly how the One System worked for me as a salesperson. The other brands cannot match the systems Ray White have in place. From recruitment to client and customer care we have it all. The technology team at Ray White are efficient, flexible and helpful, allowing us as managers to focus on looking after our staff and our customers and clients. The One System is exactly that, one system that delivers and allows us to grow, as we head into a very digital market, we are proud leaders in this field.
The Ray White software, systems and support team make the running of our business far more relevant, systemised and compliant than ever before. Advice and specialist help is always available at our fingertips. We are continually encouraged to be the very best we can be, which in turn enables us to deliver to our customers in a timely and value add manner. We are proud to be part of a franchise that leads the way in technology, research and future trends to keep our businesses relevant for the continually changing real estate landscape.
Join the Ray White Team
We are looking for genuinely committed business owners, salespeople (experienced or not),
property managers, and administration staff to join us